Recently, the question of import limits has once again come to the fore ahead of an A-League club owners meeting to be held in Abu Dhabi later this month.
Chris Fong, the Brisbane Roar chairman came out in defence of the quota after murmurs that the FFA were looking to restrict the signing of foreign players further by lowering the quota from 5 to 4. Fong's argument was essentially that the status quo is fine and that any tampering with the current system would possible undermine possible success. Fong cited the success of Brisbane idols, Thomas Broich and Besart Berisha as great examples of foreign player making a great impact on the competition. To restrict the possibility of such great players to come to the league would be an affront to clubs and the fairness of the competition.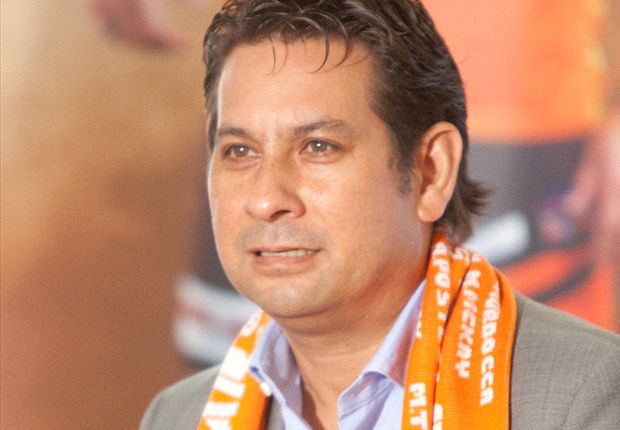 I am of course paraphrasing, you can view the article on The World Game
here
.
Ideas of foreign quotas are not foreign across the world and certainly not in Asia. Between 2009 and 2012 Malaysia had an all out ban on foreign players in an ill though out attempt to rise the quality of professional football in the country. The FFA is certainly not proposing an all out ban on foreign players but it is important that this issue is once again revisited.
As it stands, A-League clubs are allowed 5 foreign players from any federation in the world. Here are the teams, and the foreign players on their books:
Adelaide United: Isaias Sanchez, Sergio Cirio, Pablo Sanchez (Spain), Marcelo Carrusca (Argentina), and Fabio Ferreira (Portugal)
Brisbane Roar: Henrique de Silva (Brazil), Jean Carlos Solorzano (Costa Rica), Mensur Kurtishi (FYR Macedonia), Thomas Broich (Germany)
Central Coast: Malick Mane (Senegal), Richard Vernes (Hungary), Nick Montgomery (Scotland) and Kim Seung-Yong (Republic of Korea)
Melbourne City: Damien Duff, Liam Miller (Republic of Ireland), Robert Koren (Slovenia), Robert Wielaert (Netherlands) and Jonatan Germano (Argentina)
Melbourne Victory: Besart Berisha (Albania), Mathieu Delpierre (France), Fahid Ben Khalfallah (Tunisia) and Gui Finkler (Brazil)
Newcastle Jets: Kew Jaliens (Netherlands), Edson Montano (Ecuador), Marcos Flores and Geronimo Neumann (Argentina)
Perth Glory: Youssuf Hersi (Netherland), Andy Keogh (Rebublic of Ireland), Nebojsa Marinkovic (Serbia) and Sidnei Sciola (Brazil)
Sydney FC: Marc Janko (Austria), Nikola Petkovic and Milos Dimitrijevic (Serbia)
Wellington Phoenix: Alberto Riera, Alex Rodriguez (Spain), Kenny Cunningham (Costa Rica), Roly Bonevacia (Netherlands) and Roy Krishna (Fiji)
West Sydney Wanderers: Mateo Poljak (Croatia), Iacopo La Rocca (Italy), Seyi Adeleke (Nigeria), Vitor Saba (Brazil) and Romeo Castelen (Netherlands)
As you can tell, their is a vast variety of nationalities playing in the A-League which in turn, creates a very diverse competition. I am not going to argue how important each players is to each team exactly, but lets first look at who is using the foreign spots to the potential and how many would currently be affected by a change to an import quota reduction.
Only the Wanderers, City, Adelaide and Wellington would suffer from a reduction to 4 foreign players as the rest of the sides play under the quota. Whether this is in preparation for a possible change, one can only guess but it is worth noting that Brisbane and Newcastle have released two players since the beginning of the season which has opened up a spot for each side. So, on the surface, less than half of the sides in the League would potentially suffer if new regulations were introduced today.
What I personally hope to see is an introduction that puts Australia in tune with the rest of the Asian Football confederation by introducing a 3+1 ruling. For those unfamiliar with the ruling, this allows teams to recruit three foreigners from anywhere in the world plus one from within the Asian confederation. The K-League and J-League already adhere to this standard. It only makes sense. The AFC Champions League has this requirement and if A-League teams wish to participate in their current form, they would need to drop one if not two of their foreign imports from the squad which hardly seems fair on the players who helped get them their in the first place.
In the Wanderers successful tilt in the 2014 Champions League, for the group stages Mateo Poljak had to miss out on helping the team. Thanks to having Shinji Ono on the books they were able to register 4 foreign players for the group stage (Hersi, Ono, La Rocca and Polenz). However in the latter stages of the competition, they were restricted to the use of only La Rocca, Poljak and Saba. New signings Adeleke and Castelen were unfortunately unable to play for the team. Thankfully for the Wanderers this did not affect their ability to win the competition, but that then brings into question how good the imports brought in are compared to the Australian players that took their place.
A bigger flop than the Legend of Chun-Li,
Jorge Drovandi
That is another question that perhaps can't quantify as well, but it seems that the big issue with foreign spots is that they are not being used effectively. As Chris Fong said, foreigners can bring in great quality, but those kinds of players are incredibly hard to find. For every Broich and Berisha you find their are 2 Jorge Drovandis and 3 Joe Keenans. Often imports that have been signed in previous seasons simply haven't cut the mustard which brings into question how serious A-League teams are about bringing in quality players from overseas. They way I see it, there are far too many foreigners sitting on the bench or not making a contribution than an Australian player could otherwise make in the same position. Consider Brisbane Roar. Both Mensur Kurtishi and Jean Carlos Solorzano featured heavily on the bench with only Henrique proving to be capable of making a difference. While we can still cite growing pains with new signings or re-signings as it were, surely the players being brought in from overseas need to be quality enough to take first-team spots without much competition. At present it isn't that younger players have pushed them for spots, they simply haven't performed to expectation. Young Brandon Borello has already pipped Kurtishi for a starting spot after scoring against Melbourne City off the bench.
If you were to ask many supporters in the A-League, I am sure most would rather see a young player trying to find his feet at A-League level than seeing a supposed seasoned pro from overseas struggling to make the grade.
This makes me thing we in Australian football are merely not looking far enough a field for our players. Whilst I understand the realities of signing foreign players of high quality is incredibly difficult, surely if there is no one of any decent value available they should be looking in their own youth teams or at the NPL.
My belief is that a further restriction of foreign spots might actually force teams to scout more wisely. I am very glad that we have moved beyond signing players based on Youtube or DVD footage (ala Reinaldo and countless others) but we still have a long way to go to sign players that will really make a difference.
Qu was a sensation in the first season of the A-League
One thing that I really hope gets done is the allocation of a AFC players spot. While I think the
ultimate aim should be 3+1, at least a 4+1 system like what is being done in China would be an intermediate step. This way you restrict they players that teams are going to look at and encourage recruitment from Asia. I think it is a sad indictment on the league that Central Coast are the only team to have a played from Asia. Even over the league's history, Asian players have been few and far between; particularly successful ones. Shinji Ono, Kazuyoshi Miura, Seo Hyuk-Su and Qu Shengqing are the only players I can think of off the top of my head that have made a significant impact on the A-League and that is far too few when you consider the success our players have in Korea, Japan and the Middle East. Surely we need to catch up and show that we belong in Asia by at least taking recruitment seriously. Clubs need to be building strong relationships with clubs in Asia and assert the fact that Australian football is a part of the Asian landscape. The Wanderers success has certainly earned Aussie football fans all across Asia, but there is still much work to do.
Chris Fong is happy with status quo and that's fine but if we really want to see progression and efficiency in the A-League, we need to get in line with the rest of the AFC and get 3+1 in the Australian equation for success.